WordPress Self Sort
1.0
Sort pages using WordPress self sort
Sort posts using WordPress self sort
Sort categories using WordPress self sort
Only $21 USD (ex VAT) for 1 site – including 1 year free updates and support
WordPress Self Sort
WP Self Sort is a powerful plugin sorting the order of posts, categories, tags, custom post types, users and plugin list by using a Drag and Drop with JQuery UI Sortable. The order can be customized within the default WordPress post type and custom post type's list page. It allows to reordering the posts and categories for any default and custom post types.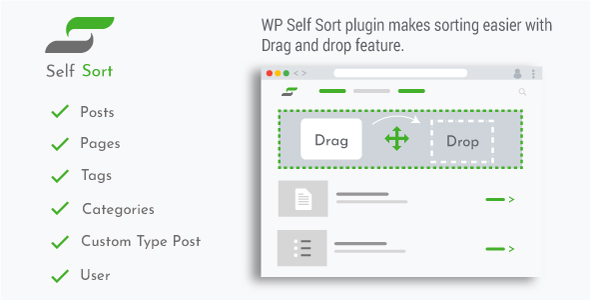 Features of WP Self Sort
Sort posts using WordPress self sort
Sort pages using WordPress self sort
Sort plugins using WordPress self sort
Sort users using WordPress self sort
Sort custom post types using WordPress self sort
Sort categories using WordPress self sort
Sort tags using WordPress self sort
Usage of Wordpress Self Sort
Do you want the client to see only the order of posts you want to view your website? That Plugin is usable for you. After the installation and activation WP Self Sort appearing left menu. Click on WP Self Sort and select the following which you want sort the order. If select the posts go to post list page and sorting of posts capability available. You sort the post by using Drag and drop. After the sorting you see front end list of posts reorder and set the list according your sorting.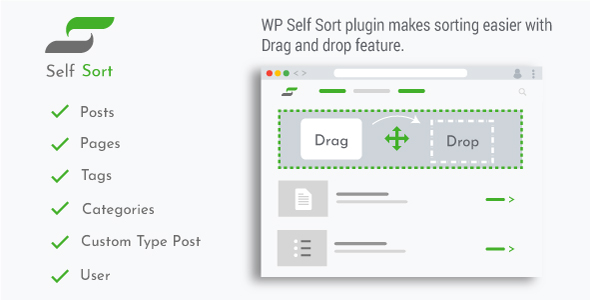 Part of the Xfinitysoft Platform
IXfnitysoft helps you to develop intuitive, aesthetically stunning and fully functional web apps that make your company money. Each feature works independently, and they work even better together. Try Xfinitysoft product's today. Integrating it into your web app is very easy.nstall WP Self Sort in your wordpress site.